Bresler Avi, CEO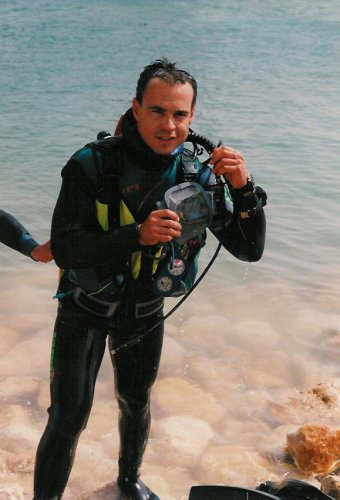 David Bibi Roubi,
head instructor
Dead Sea Divers is operated by Bresler Sea Works LTD which has the most worldwide experienced divers regarding diving in the Dead Sea. Bresler Avraham, CEO of Bresler Sea Works LTD formulated the idea to bring his experience to other divers around the world. "It took me years of experience and hundreds of dives in the Dead Sea to get the confidence and peace of mind to offer this service to sport divers." Says Bresler.
"During the years, I dove with many divers beside me. Some of them were simply great and some weren't. I am quite sure now I have the right senses to judge who can dive with me in Dead Sea, he added."
Therefore, Deadseadivers.com sets some limits on few minimum requirements from each diver. That is also the reason that the final decision if a diver will dive with us or not is always made by our staff. We regret but no objections will be accepted. We are, of course, trying our best to give our guests the maximum and most enjoyable adventure, but in no way will careless risks be taken.
Bresler Sea Works LTD is a small, family owned, under water & marine service company since 1994. Bresler Avraham is a professional diver and tug boat captain, since 1985.
As a professional diving company, we pride ourselves on providing a safe, fun and rewarding adventurous and touristic experience. As you can imagine, safety considerations are fundamental to every aspect of our operations.
We feel the key to providing the client with the best experience is to effectively combine perceived risks with integral safety, and we achieve this by making sure we have the best crew, training, equipment and procedures in place to ensure that this experience is as safe and enjoyable as possible.